BESPOKE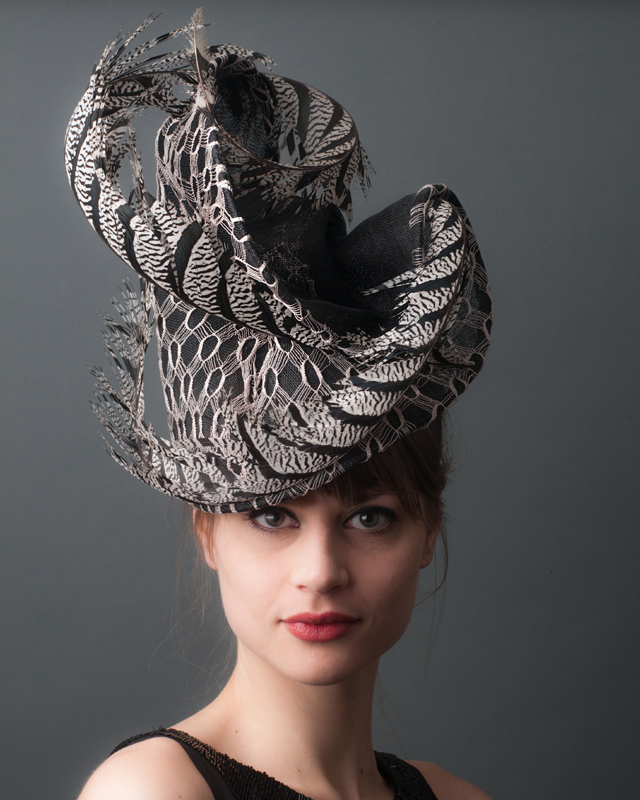 Your Lomax & Skinner design
We believe that having a Lomax & Skinner hat made for a special occasion, or even just for a treat, should be a pleasurable experience from start to finish. From your first visit to our studio, to collecting your finished hat in one of our beautiful custom-made boxes, we want you to enjoy the process as much as we do.
Whatever the reason you are having a hat made, for a wedding, a party, Bar Mitzvah or a day at the races, we will work with you to create something special that you will love.
Before your first appointment
If you have already decided on what outfit you want your hat to match, please bring it along to your first appointment. This helps us to ensure your hat will be the perfect accompaniment, as we offer a hand dyeing service.
Otherwise, you might want to consider bringing along something you would like to use as inspiration for your millinery design, such as a pair of shoes, a piece of jewellery, or just an image. Don't worry if you haven't yet decided what to wear or are unsure of which hat style you want we can guide you through the process step by step.
Your design consultation
We will start with discussing your needs, such as an upturned brim to ensure your face can clearly be seen in wedding photos, or a particular colour to match a theme.
Then comes the fun part, where you try on various styles of hat to see which suits you, and which you enjoy wearing. You are welcome to bring along a friend for a second opinion. In fact, you might want to make a day of it, and have lunch in Lewes.
After you have chosen a style, we then look at fabrics, colours and trimmings. It's your hat, so it's all about your personality and style. There are few limitations in what can be achieved in millinery, so we can discuss anything from subtle couture touches to extravagant show stopping statements.
A following appointment will then be made for your fitting.
Your fitting
At this stage you will be able to envisage the finished piece and any adjustments can be made. It is important that your hat fits perfectly, so that you can wear the piece with confidence. We believe a hat should be the perfect full stop on a great outfit.
Unless your hat requires a second fitting, we will then make an appointment for you to collect your finished piece.
Your finished design
Your hat will be ready for you to collect in one of our branded hatboxes. We carefully pack each hat to ensure it can be transported and stored in perfect condition.
Our bespoke service
We like to ask for a minimum of 6 weeks from the start of the design process to the finish, particularly during our busy period of May to September. However, we can always squeeze in some last minute orders on a shorter timescale, so if you have left it late, don't despair!