MILLINERY COURSES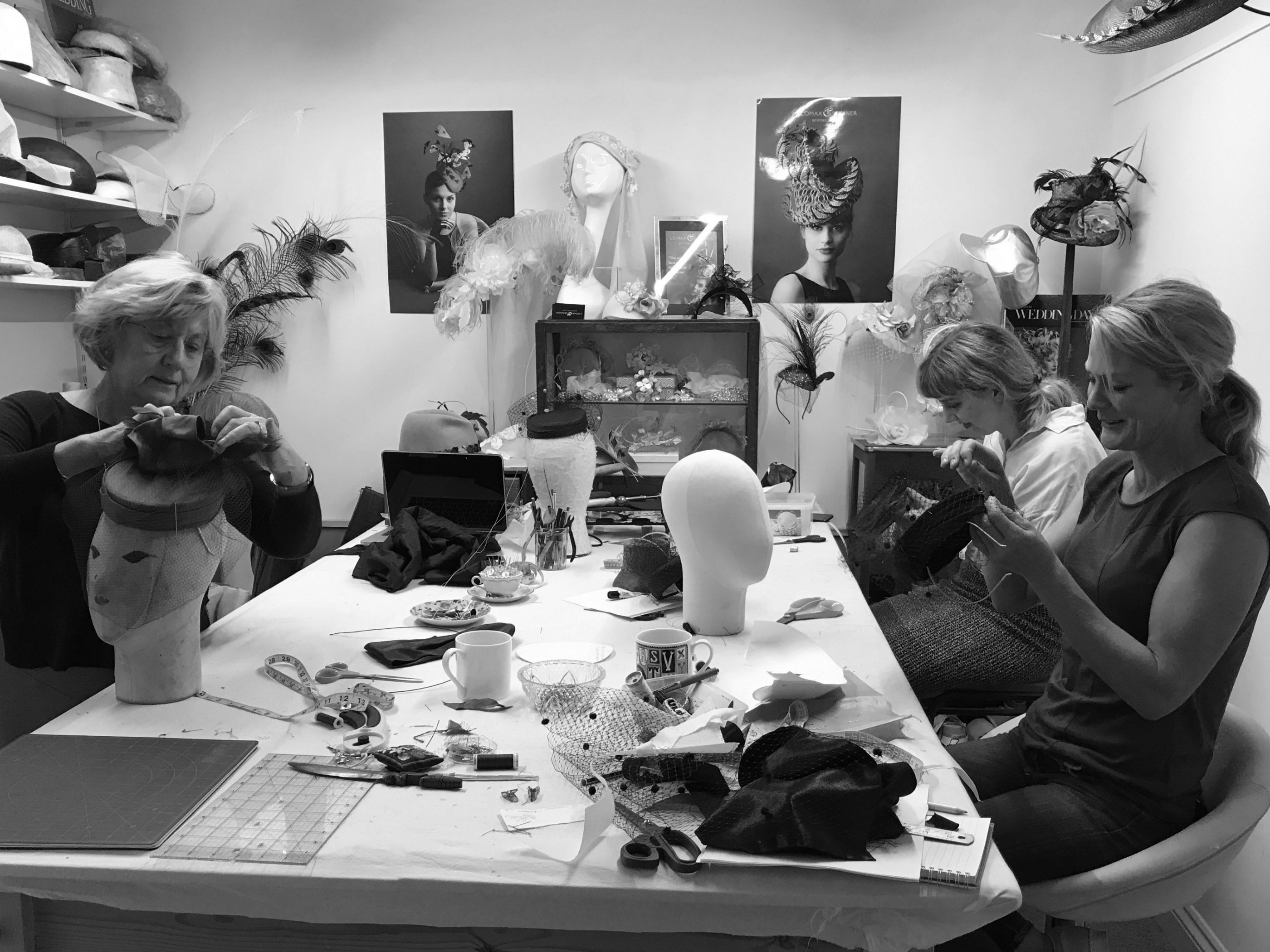 With over 40 years of millinery experience between us we specialise in one to one and small group courses in creative and informal surroundings at our Lewes studio.
With the ability to arrange dates and time to suit we offer a unique one-to-one service tailoring each course to the individual student's requirements and level of experience fitting around even the busiest of schedules.
With previous courses being as far ranging as designing and creating blocked or hand sculpted hats, silk flower making, to creating your own brim or crown block you can arrange have as many hours with us as you require at a cost of £45 per hour. The only limitation to these courses is imagination.
We also cater for private groups. With 3 or more people wishing to attend we will tailor any of our courses to meet your exact requirements and arrange dates and times to suit.
Perfect for hen parties, birthday treats or just a special day out with friends. Cost on application.
Our small group courses run throughout the year and we have an exciting program planned for 2018.
Please join our MAILING LIST to be the first to know of new courses and additional dates.
Trimming & Detailing Masterclass
Febuary 1st, 8th, 15th, and 22nd 6-9pm £180
Covering flower making, soft and sculptural bows as well as working with feathers this comprehensive course will focus on the trims and attention to detail that gives hats their professional and individual finish.
Sinamay Fascinator
March 9th and 10th 10am-4.30pm £180
Block and wire sinamay to make a base for a fascinator. Complete with a curled quill and silk rose and you will finish this course with the perfect accessory for any summer event
Sculpted Sinamay
April 14th and 21st 10am-4.30pm £180
Learn how we work with sinamay in a free and expressive way and create a beautiful and unique sculptural piece.
Classic Pillbox
May 3rd, 10th, 17th and 24th 6-9pm £180
Using flat patterns make a classic structured pillbox hat and learn the skills needed for creating your own hats at home.
Feather Headpiece
June 2nd 10am-4.30pm £90
Join us for this one day workshop and learn how to cut and shape feathers and attach them to a covered Alice band to make a delicate, or a daring, headpiece.
Vintage perchers
June 21st, 28th, July 5th and 12th 6-9pm £180
Draw inspiration from the 40's and make the perfect percher. Using millinery buckram and flat patterns you will gain all the essential skills required for developing your own pieces.
Winter Warmers! 
September 29th 10.30am-4.00pm £75
Make a cosy contemporary beret from a pre loved woolly jumper.
Sorry, Winter warmers is now SOLD OUT. Please join our mailing list to be the first to know about additional dates and new courses.
Wool felt Trilby
October 6th and 13th 10am-4.30pm £180
Learn how to block and shape a crown and work with a flat patterned brim to make a super stylish trilby hat in just two days!
Bonfire Costume Trimming Extravaganza!
October 12th 9.30am-1.30pm £30
Need a little help finishing your hat so you can march with pride on Bonfire Night? Spend the morning with us and we will help, whichever society you belong to!
Trimming & Detailing Masterclass 
November 1st, 8th,15th and 22nd 6-9pm £180
This November trimmings course will cover flower making, soft and sculptural bows and working with feathers with a focus on the upcoming festive season, be that a trim for the perfect cocktail piece or a flower corsage for a gift.