Rachel Skinner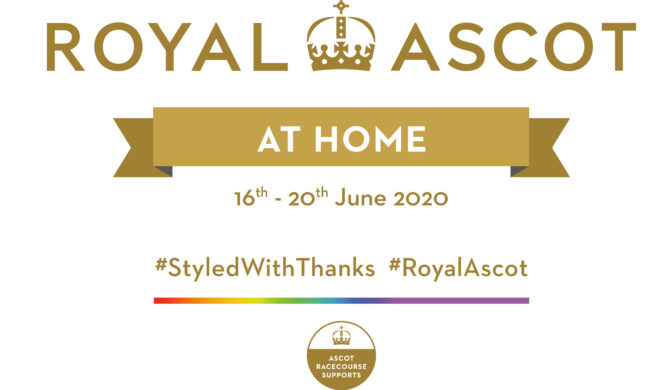 Millinery and fashion worlds come together in support of The National Emergencies Trust Relief Fund, NHS Charities Together, The Care Workers Charity and the Berkshire Community Foundation.
As an event which truly showcases the very best of British contemporary and traditional fashion and millinery, no Royal Ascot would be the same without a celebration of British style.
Since Royal Ascot 2020 (Tuesday 16th to Saturday 20th June 2020) will be held behind closed doors (owing to the COVID-19 lockdown and in-line with government advice), Ascot and the British Hat Guild have joined forces to launch a campaign designed to inspire racegoers whilst raising funds for four frontline charities: The National Emergencies Trust Relief Fund, NHS Charities Together, The Care Workers Charity and the Berkshire Community Foundation. Ascot will be kick-starting the fundraising with a £100,000 donation.
Royal Ascot and the British Hat Guild, spearheaded by the legendary Stephen Jones OBE, have invited leading British milliners to create a bespoke hat or headpiece featuring a rainbow theme, in-line with the nation's use of rainbows to thank the NHS and frontline workers. The final collection includes designs by industry greats such as Stephen Jones OBE, Jane Taylor, Lock & Co. Hatters, Rachel Trevor Morgan, Lisa Tan, Lomax & Skinner and Awon Golding.  Their hats will be auctioned online throughout the week of 'Royal Ascot At Home' with all money raised being added to the charity fund.
Juliet Slot, Chief Commercial Officer, Ascot Racecourse, comments:
"During what has been for many milliners an extremely challenging period, we were overwhelmed with the response this initiative received.  More than 40 talented designers managed to turn around the most astounding collection of hats and headpieces in an extremely short space of time. Their craftsmanship and skill in creating these works of art is inspiring and we are extremely grateful to them for donating their time and expertise to create this collection, which I'm sure will raise a significant amount for our charity fund."
To be part of the #RoyalAscot #StyledWithThanks campaign and to donate click here https://www.ascot.co.uk/millinery-auction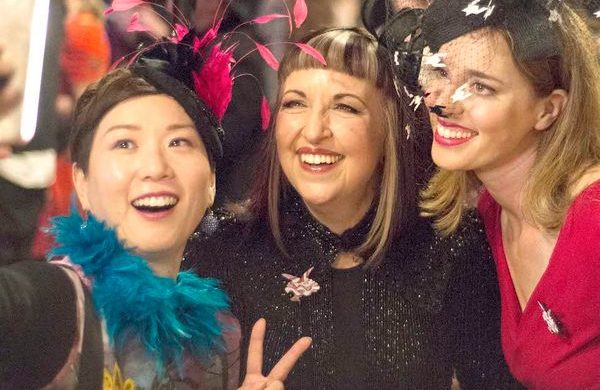 During these uncertain times with covid-19 we can't see any customers in our hat studio. Please stay at home to help prevent the spread of the virus. We will however be working from home so please do get in touch and we can work remotely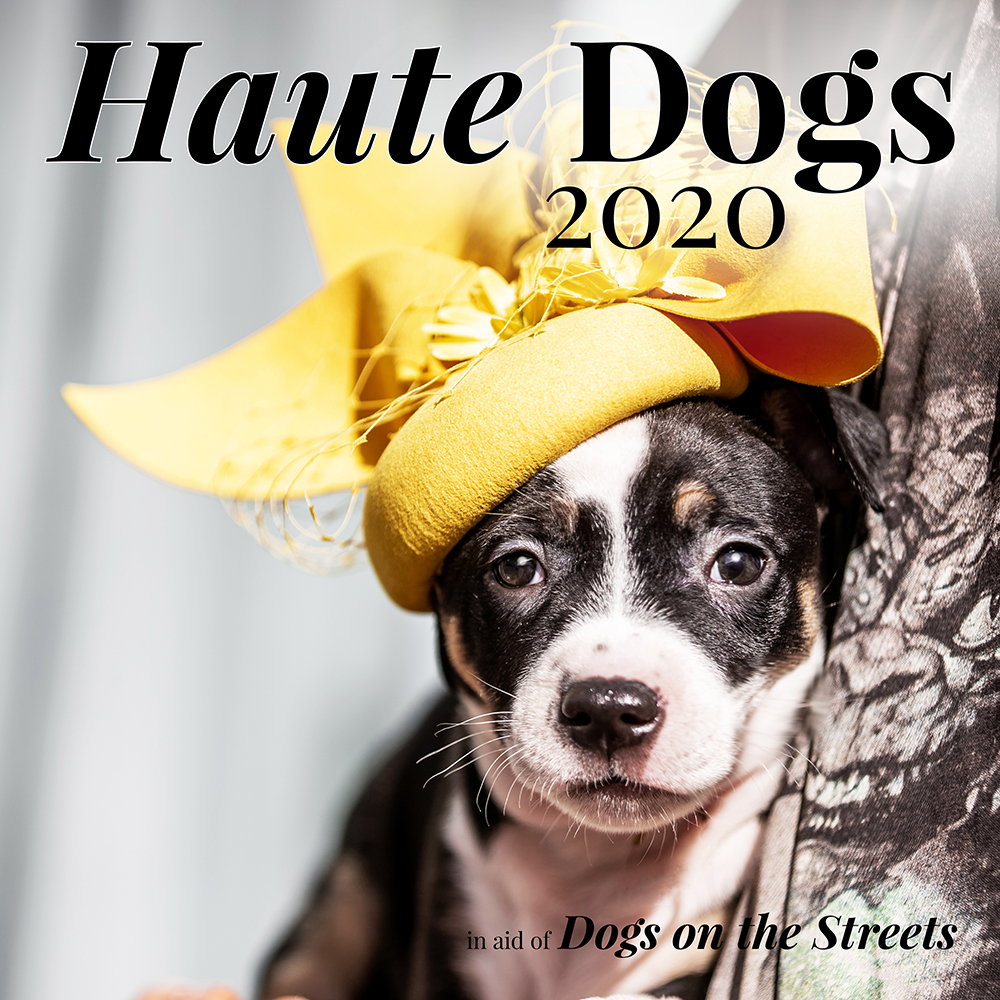 Calling all dog lovers! Helping the homeless community and their dogs, we are proud to be asked by Awon Golding to helping this wonderful charity with our design being featured in the month of March.
More than just a calendar, Haute Dogs is a lifeline for pooches in need. Now in its second year, the 2020 project is helping a new charity with an even more ambitious target. Please see the links below for details and to order your calendar in time for Christmas.
All the milliners taking part are:
January – Millinery Jill
February – Jane Taylor 
March – Lomax & Skinner
April – Juliette Botterill
May – Stephen Jones
June – Lock & Co
July – Philip Treacy
August – Awon Golding
September – Siggi Hats
October – J Smith Esq 
November – Dillon Wallwork
December – Edwina Ibbotson
https://www.indiegogo.com/projects/haute-dogs-calendar-2020#/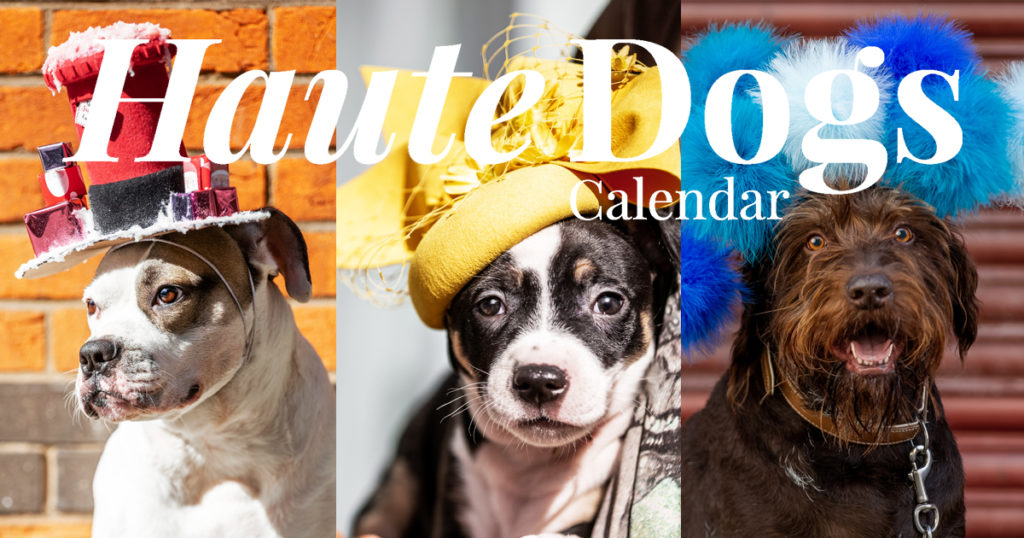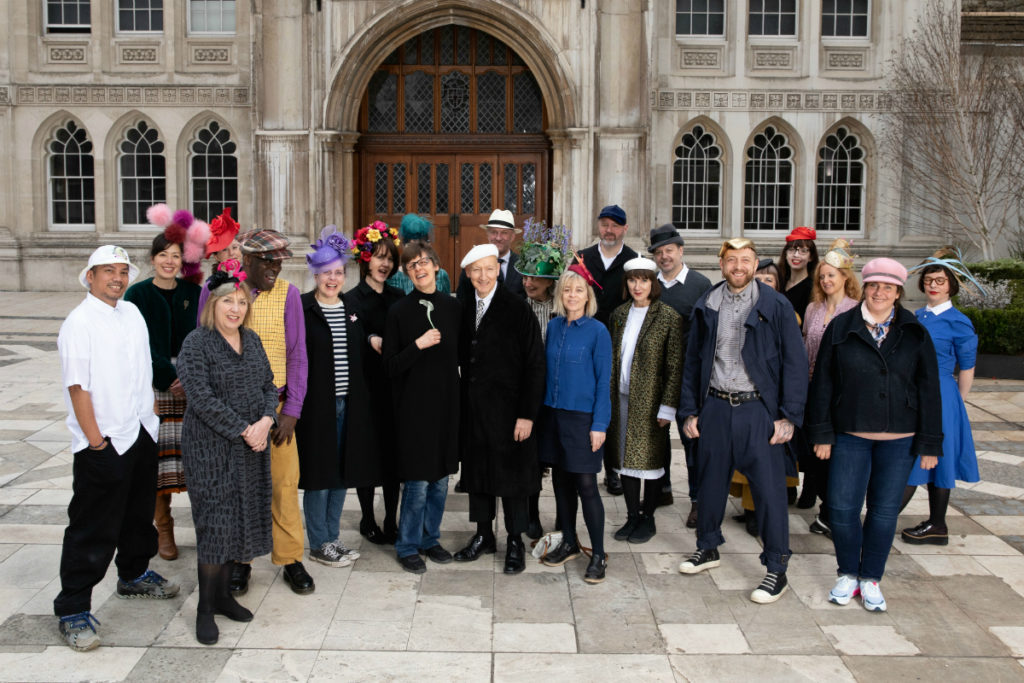 The British Hat Guild has officially launched and we are very proud to be amongst the founding members. 
The UK's top milliners and hatters have come together to create a new association dedicated to sharing ideas and promoting our unique heritage.  
The British Hat Guild seeks to encourage and promote the following ideas:
Craftsmanship to recognise the excellence and technique of British millinery.
Artistry to distinguish the extraordinary sophistication of its members' work.
Heritage to acknowledge the authenticity of our millinery tradition.
Creativity to celebrate the individuality and inventiveness of its members.
Education to encourage and support the learning and skills of millinery.
Inspiration to share knowledge and be leaders in their field.
The Guild's core membership will be for professional milliners and hat makers but will welcome associate members. Originally established in Luton in the 1950s by a group of established hat manufacturers, the Guild ceased to operate in 2003. The newly-revitalised Guild returns, spearheaded by a group of milliners and hat experts including Stephen Jones, Philip Treacy, Noel Stewart, Rachel Trevor-Morgan, Edwina Ibbotson and Lomax & Skinner.  
For further information please see The British Hat Guild website or visit their Instagram account.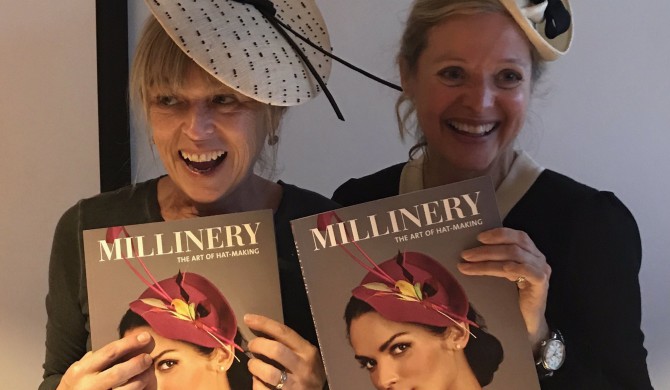 Thank you so much to everyone who came to our book launch on Saturday. We both feel totally overwhelmed by the incredible support through our family, friends and customers and the community of Lewes. A very enjoyable evening was had at the Depot Cinema, cafe and restaurant it was great to celebrate the book after all the hard work.
'Millinery: The Art of Hat-Making' comes out on 7th October. You can order it through Amazon or Waterstones or direct from the publishers GMC Group www.gmcbooks.com or if you are local in Lewes pop by our studio to get a signed copy!
The book provides fully illustrated step-by-step instructions for 12 stunning hats and headpieces, which are suitable for a wide variety of occasions and require minimal tools and materials. The eye catching designs include a felt trilby, a chic pillbox, a leather cap, a feathered headband, a sparking cocktail hat and a bridal headdress.
Novices will find all the advice they need on the tools, materials and techniques required to make the hats. Full of inspirational photography, this beautifully designed book shows you how to achieve high-end, couture results at home.
Fancy wearing your own creation on your wedding day and doing something a little different as part of your Hen day celebrations? Our 'Hen Party Millinery Fun' workshop can be booked for up to 12 guests. This 4/5 hour fascinator workshop can be tailored to suit the brides colours and theme for her wedding day. Millinery tuition,  equipment and materials are all provided. No previous sewing skills needed.
A break for afternoon tea including Prosecco, homemade scones, lemon drizzle cake and a selection of English teas is also served. (Please let us know any dietary requirements so we can cater for them)
As you can see this lively group of ladies thoroughly enjoyed their day and had a lot of laughs!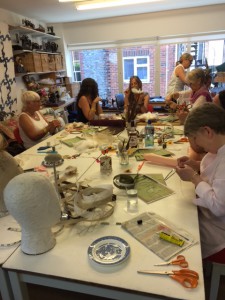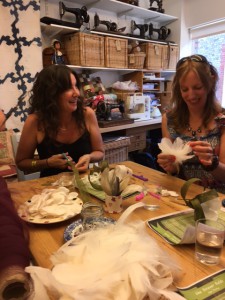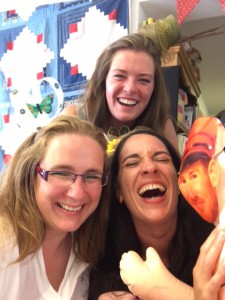 Thrilled to see a hat I made for Mike Jagger's Voodoo Lounge Tour is on display at The Saatchi Gallery London now but it finishes on 4th September so hurry if you want to go. It was along time ago that I made it, 22 years to be precise back in 1994 !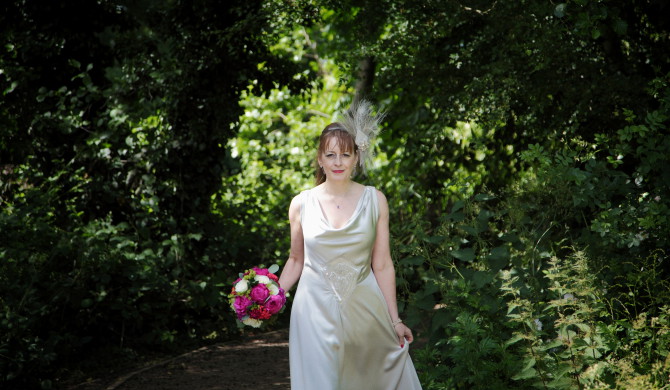 When working with a customer we always start by looking at the dress design. Catrina Dunn's wedding dress was by Joanne Fleming Design. Catrinas dress echoed a 1930's era and was cut from the softest silver grey silk satin. The dress had a central panel of detailing in a diamond shape which was embroidered with bugle beads and Swarovski crystals.
During Catrina's first appointment with us she said she wanted her headdress to be a statement. For this to work with the dress and Catrina's small frame it was important to keep the piece soft and not too large. When designing I took inspiration from a large feathered leaf and the diamond shape on the dress combining the two together.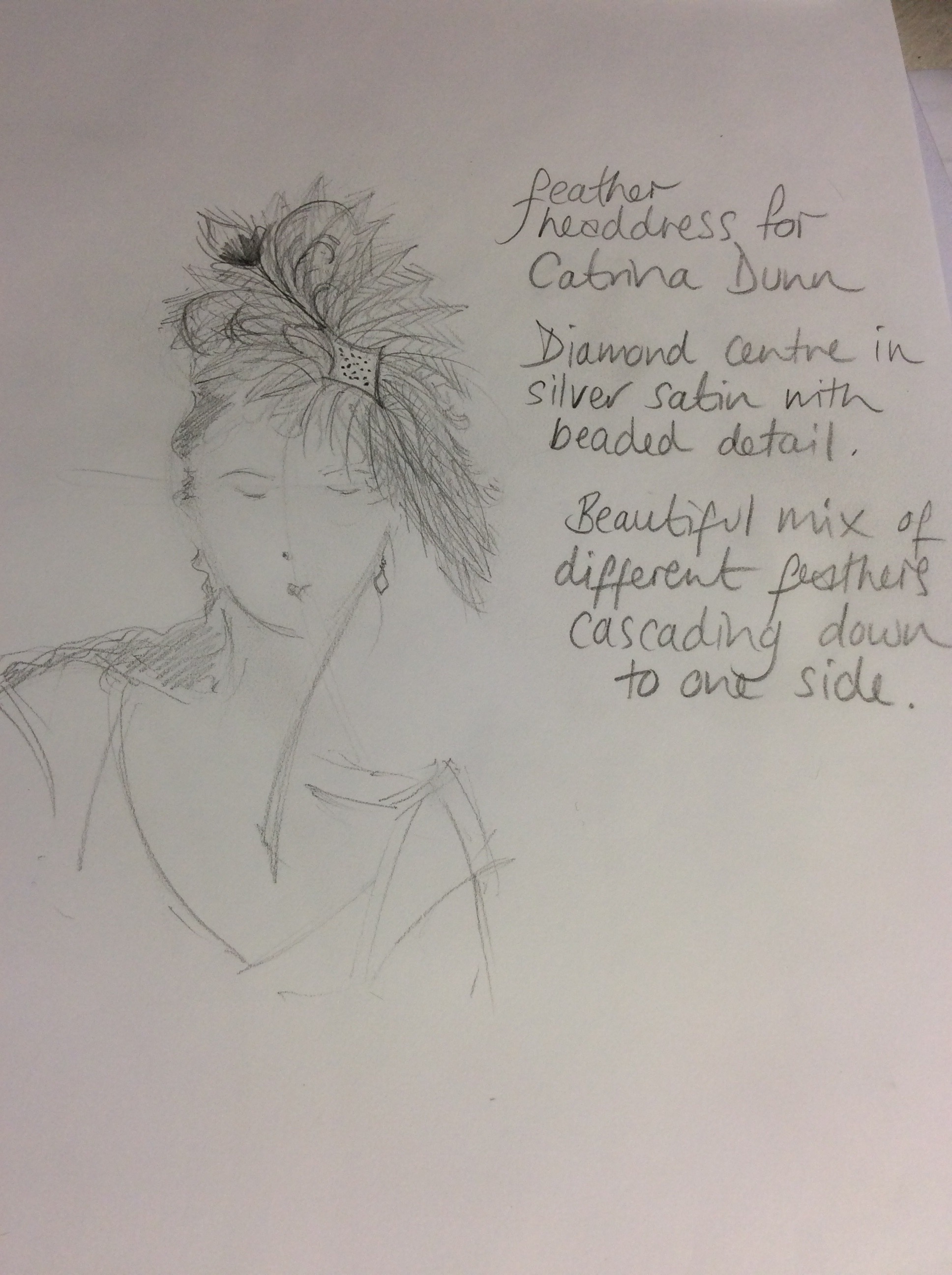 Four types of feathers were hand dyed to the palest shade to match the dress. A diamond shape was cut and covered in the silk and then hand sewn with beading, crystals and embroidery. Another diamond is cut to sew each individual feather on in various lengths to create the desired shape.  A layering technique was used as some of the feathers were not much thicker than hair.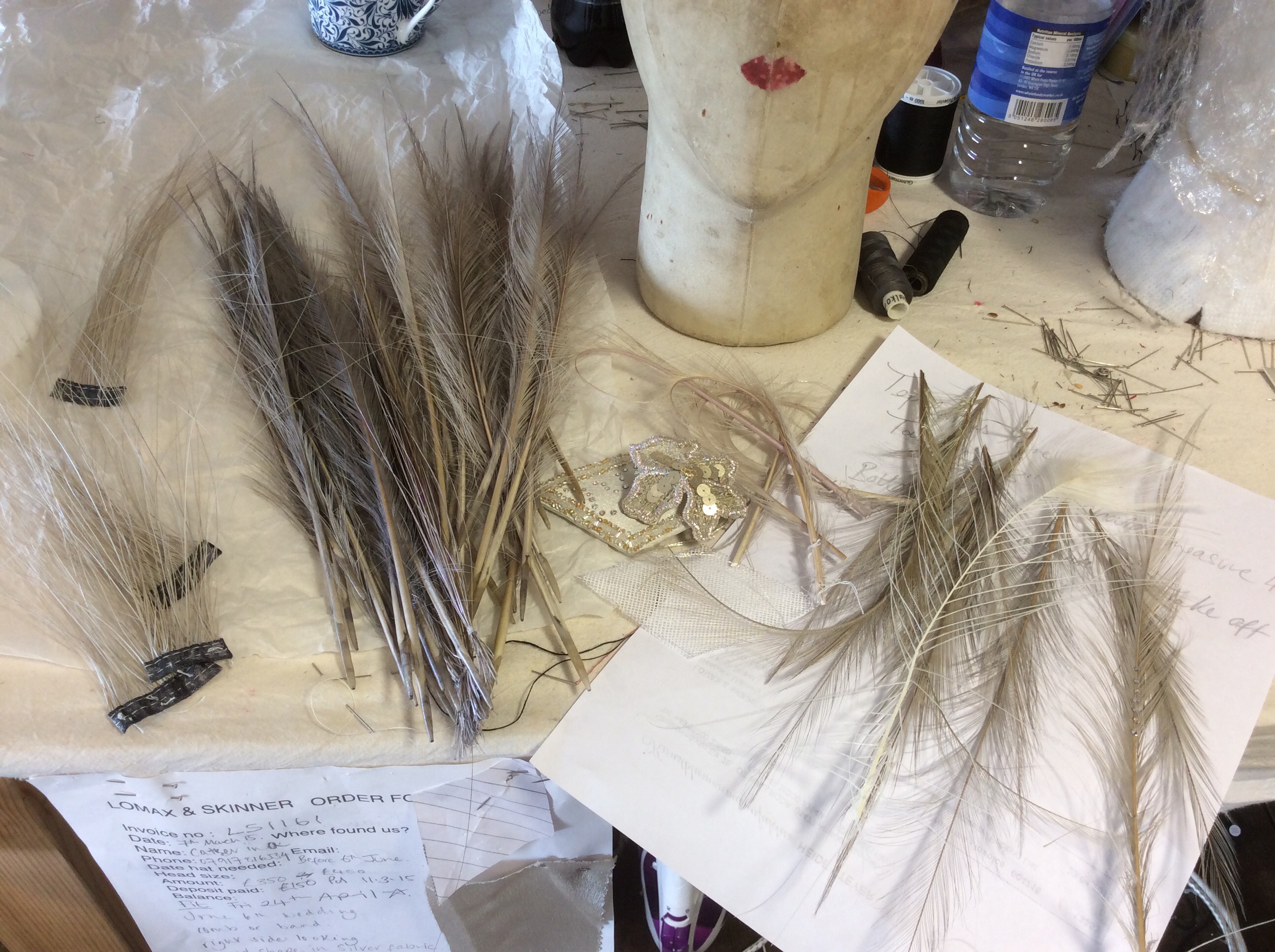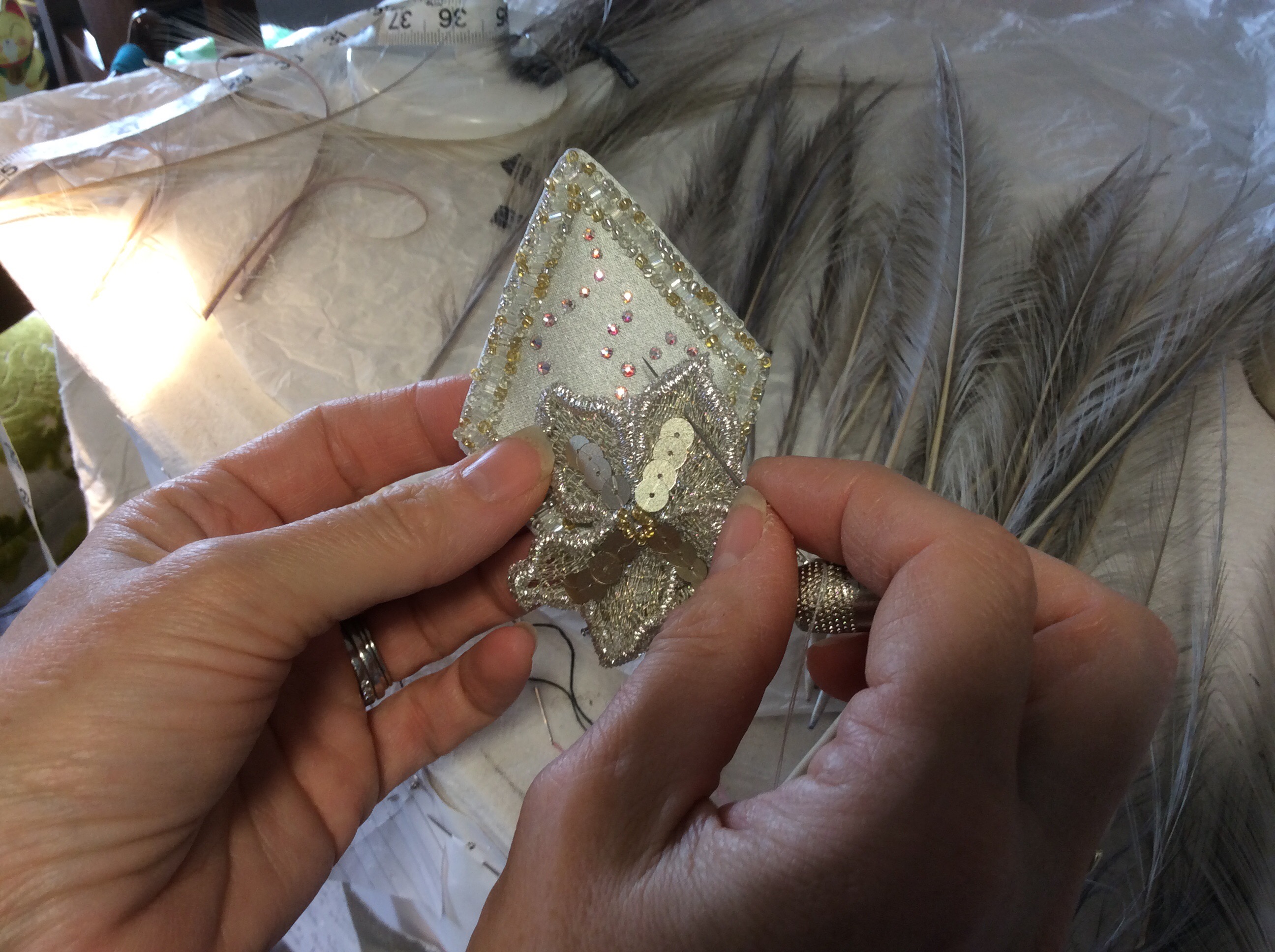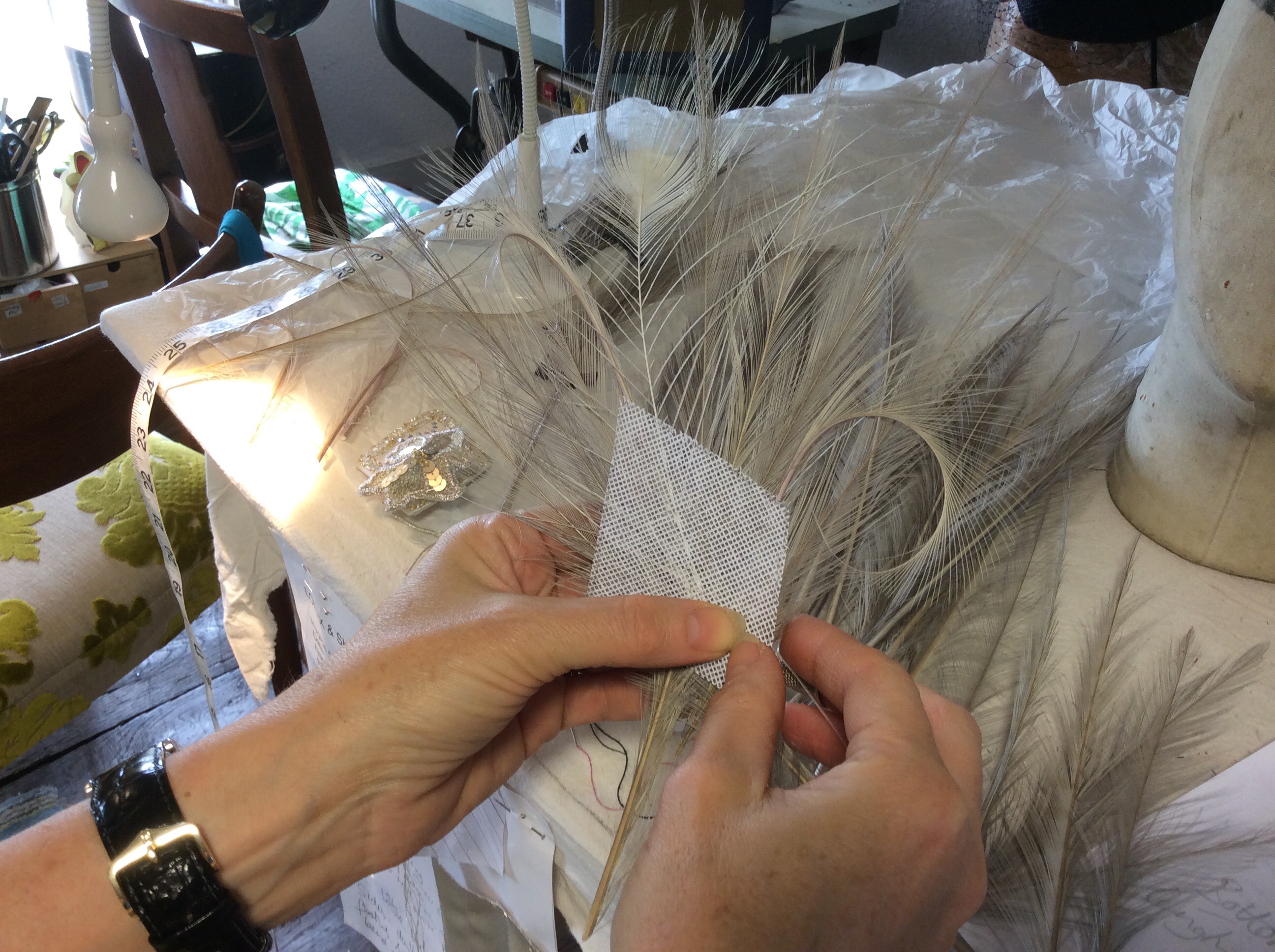 It's important to have a fitting to check the proportions so any adjustments can be made. An incredible 35 hours was spent making Catrina's headdress! But all worth it as Catrina was delighted and loved every minute wearing it which makes our day too. Many thanks to Catrina for sending us some photos of the day taken by Ben Joseph Photography.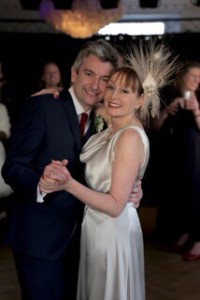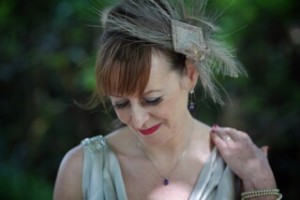 If you are like us, then your first thought on deciding on a day at the races is not to rush out and buy a copy of the Racing Post to mug up on form, but rather to start thinking about what to wear. Dress codes are strict at the grandest events in the racing calendar, and not following the dress code to the letter can mean you are not admitted to the enclosure for which you have a ticket.
Our advice is to plan your outfit in stages, starting with a dress and jacket, or similar, then shoes, and finally the finishing flourishes —your hat and handbag. Your milliner should be able to hand dye the materials and trimmings for your hat to match your outfit and shoes, so when going along for your first design consultation, make sure you bring the rest of your outfit to ensure a polished overall look.
We also advise that if you are planning a statement hat, then keep this in mind when choosing the rest of your outfit. Were you to opt for a large all-over print or bright feather textured jacket, then you might find you want to go for a more low-key hat when you come to have it designed. The job of a hat is to frame your face and give you confidence, not swamp you. So, if you would like a high impact hat, then you should probably keep the rest of your outfit understated. This also means you can restyle the clothing with a different hat for another occasion.
Ascot
Fancy dress or promotionally branded items are not permitted anywhere inside the grounds during the Royal Ascot meeting.
Royal Enclosure
Formal daywear is required for ladies in the Royal Enclosure.
Hemlines must fall on, or just above the knee
Trousers are not permitted
Strappy, halterneck and off the shoulder tops or dresses are not allowed. Straps must be one inch or greater in width
Your midriff must not be exposed
Jackets and shawls are allowed, but the outfit underneath must comply with the dress code
Fascinators are not allowed, and hats must now have a base of 4 inches or more in diameter. This means cocktail hats are permitted, but they must have a proper base of sinamay or similar. An insubstantial cocktail piece with only a headband base is not acceptable. We advise you ensure your milliner is aware of this requirement, as it is a new addition to the dress code.
For girls aged 10-16 formal dress is required, but a hat or is optional. A fascinator may also be worn.
Grandstand Admission
The rules are more relaxed for ladies in the grandstand enclosure, but ladies are still expected to dress formally, and a hat, headpiece or fascinator must be worn at all times. Strapless or sheer tops are not permitted and although trousers may be worn, but they must be full length and not paired with strapless or sheer tops, even under a jacket or shawl. As with the Royal Enclosure, midriff-baring tops are not allowed.
For girls aged 10-16, the dress code is the same as for the Royal Enclosure.
Silver Ring & Heath Enclosure
There is no formal dress code, but smart dress is encouraged.
Flat Season (May to October)
The general dress code for meetings outside of Royal Ascot is that ladies are encouraged to dress as for a smart occasion.

Epsom
Fancy dress is not permitted in the Queen's Stand or Duchess's Stand during the Investec Derby Festival.
Derby Day (Queen's Stand)
Ladies must wear formal day dress. Sleeveless vest are not permitted, and trousers must be full length and part of a tailored trouser suit. A hat or substantial fascinator must be worn.
Girls must be dressed smartly, but hats or fascinators are not required.
Ladies Day (Queen's Stand)
There are no set rules on outfit, but ladies are asked to wear a fascinator or hat. Casual clothing, such as sportswear, trainers or jeans is not allowed.
Girls should be dressed smartly, but headpieces are optional.
Derby Festival Grandstand Enclosure
Smart dress is requested, which means that sleeveless tops, midriff-baring tops, sportswear and trainers are not acceptable. Denim is allowed, but it must not be frayed or ripped.
Derby Festival Grandstand Hospitality
The rules are as above for the Grandstand Hospitality area, but ladies are requested to wear a hat or fascinator.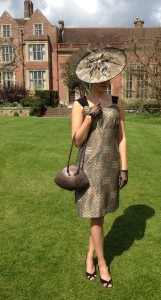 Glorious Goodwood
Goodwood is the most relaxed of the season's race meets, so there are few formal dress code requirements, but fancy dress is not permitted in any Enclosure.
Goodwood Fesitval
Richmond Enclosure
Ladies must dress smartly, and are encouraged to wear a hat or fascinator. Shorts, jeans and sportswear are not permitted.
Other Enclosures
There is no formal dress code, but flat or wedge-heeled shoes are recommended as there are grassy areas, and areas of decking to navigate.
Overall, the most important thing to remember when considering what to wear for Ascot, Epsom or Goodwood is to enjoy the process of planning. After all, there are not enough occasions left to get dressed up and enjoy a day of fun and finery, — with a flutter thrown in. So happy planning, and good luck on the day.